So you've just got a dog and want to name it something interesting. When it comes to names, the term "cool" is somewhat subjective. What you think is cool may not be what others think is cool. Fortunately for you, we've compiled a list of creative dog names to get you started.
Top Cool Dog Names
Ace
Boomer
Dash
Denver
Dre
Duke
Harley
Harper
Hendrix
Hux
Indy
Jazz
Kai
Oakley
Pixel
Rebel
Remy
Riley
Ryder
Sage
Skye
Cool Celebrity Dog Names
Taking cues from famous people's dogs is a brilliant way to come up with a unique dog name. Take a glance at this list of some of the cool celebrity dog names . For your convenience, we've placed their celebrity owner in parentheses.
Finn (Amanda Seyfried)
Meatball (Adam Sandler)
Mr. Famous (Audrey Hepburn)
Tucker (Charlize Theron)
Vida (Demi Moore)
Flossie (Drew Barrymore)
Brutus (Dwayne "The Rock" Johnson)
Winston (Gwen Stefani)
Mocha (Hugh Jackman)
Atticus (Jake Gyllenhaal)
Mona (Jennifer Love Hewiit)
Sid (Jessica Alba)
Kola (Kellan Lutz)
Foxy (Matthew McConaughey)
Sidi (Orlando Bloom)
Baxter (Ryan Reynolds)
Indo (Will Smith)
Zelda  (Zooey Deschanel)
Cool Basketball Dog Names
Do you like sports? Or do you have a dog that is athletic and likes to play? Then our set of basketball-themed dog names is perfect for you. Here are a few of our interesting ideas.
Shot
Dunk
Kobe
Jordan
Hoops
Kid
Magic
Lebron
Shaq
Spalding
Spud
Wade
Hip Hop Inspired Dog Names
Is your pooch a little too cool for the dog park? Rap fans would undoubtedly want a rap-inspired name for their crazy cool dog. Take a look at this list of rap dog name ideas.
50 cent
Akon
Biggie
Bow Wow
Busta
Cee Lo
Chance
Dr Dre
Eazy E
Eminem
Flo Rida
Kool Herc
Ice Cube
Jay-Z
Lil Wayne
Ne Yo
Minaj
Outkast
Puff
Rakim
Shaggy
Snoop
Smalls aka Biggie Smalls
2pac
Vanilla Ice
Young Thug
Beats
Decks
Flex
OG
Cool Big Dog Names
A big dog with a cool name can flaunt his or her impressive (or soon to be impressive) size. They can be serious or lighthearted. Consider any of these names for your large dog.
Alpha
Bear
Bertha
Boomer
Brick
Brock
Bruiser
Brutus
Bulk
Butch
Clifford
Dragon
Elf
Everest
Gator
Groot
Hagrid
Hercules
Hulk
Jabba
Jumbo
Kong
Max
Monster
Moose
Rhino
Samson
Sherman
Stag
Sumo
Tank
Titan
Titus
Wun Wun
Zilla
Cool Small Dog Names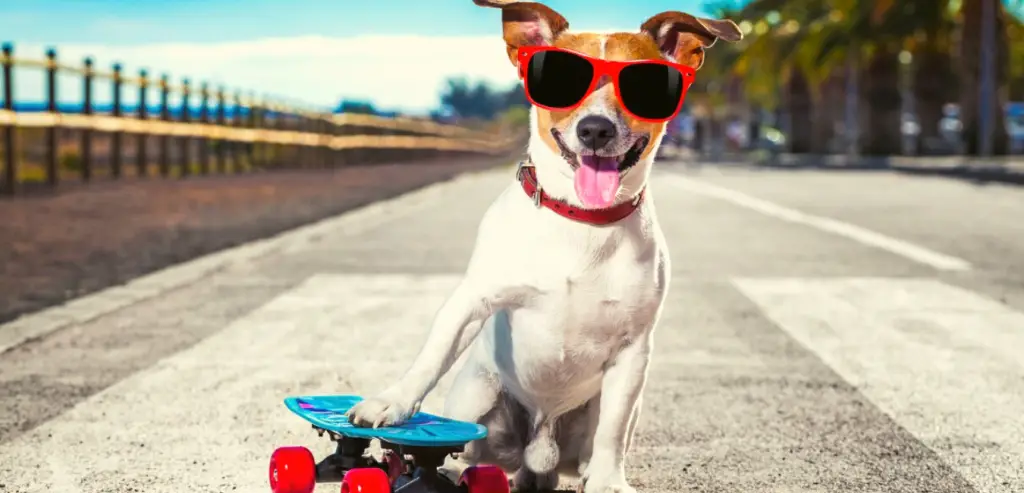 I believe we should all accept that all dogs are adorable. When it comes to cuteness, though, pint-sized puppies win hands down. Let's take a look at some cute dog names for your sweet little pup.
Ant
Baby
Bean
Bitty
Boo
Bubbles
Chi Chi
Cutie
Dinky
Dumpling
Elf
Fifi
Honey
Itsy
Jellybean
Kiki
Lolly
Peanut
Penny
Pez
Piccolo
Pickle
Pixel
Pixie
Sugar
Sweetie
Taffy
Tiny
Tinker
Triffle
Named After Cool Places All Over The World
Cali
Dixie
Humboldt
London
Memphis
Milan
Paris
Rio
San Fran
Sydney
Tex
York
Top 20 Cool Male Dog Names
Ace
Archer
Bandit
Blaze
Bolt
Bowie
Chase
Cobra
Connor
Cooper
Dukes
Hendrix
Jasper
Jax
Justice
King
Lex
Loki
Max
Pistol
Ranger
Rebel
Rux
Rusty
Ryder
Smokey
Tanner
Tex
Tux
Tyson
Wrigley
Ziki
Top 20 Cool Female Dog Names
Athena
Camilla
Dixie
Dove
Echo
Foxy
Harley
Hera
Honey
Koda
Layla
Milan
Misty
Nyx
Pearl
Portia
River
Sage
Sandy
Scarlet
Zelda