Bringing a new puppy home is exciting, but it can also be intimidating, particularly for first-time puppy owners. A little advance planning to ensure all of the necessities are in order, on the other hand, will ensure a quick and comfortable homecoming.  Here is a list of 12 puppy essentials that will help you introduce your new puppy into your home and family.
This post contains affiliate links and I may earn a commission from qualifying purchases as an Amazon Affiliate when you click on the links on this post at no additional cost to you.
1. Dog Collar
You'll need a proper dog collar. A collar for your puppy is one of the first new puppy essentials you'll need. Keep in mind that you may need to purchase a collar at various stages of your dog's growth. Although there are certain items that can evolve with your puppy's growth.  The majority of dog owners believe that nylon is perfect for a dog collar. Because of its reliability, versatility, and low-maintenance design, the blueberry pet classic nylon dog collar, is a popular choice for puppies. Additionally, nylon is a very lightweight substance and can conveniently be scaled down for your little one. To prevent the paint from slipping off, make sure it suits snugly. You don't want it to be so close either. Two fingers should be able to reach between the collar and the puppy's neck.
2. Durable Identification Tags
Durable ID tags are to ensure you don't lose your puppy. It's important to be able to identify your puppy, so an easy to read identification tag with your puppy's name, phone number, and home address is essential. If your dog is an indoor dog, don't be misled into believing he doesn't need identification. If your dog gets separated from you by mistake, ID tags will assist in a fast reunion. Tags come in a variety of sizes, from simple tags to adorable pendants, and in the shapes of roses, hearts, stars, and other objects. Make sure you choose a metal that can withstand the weather conditions in your region.
3. Dog Leash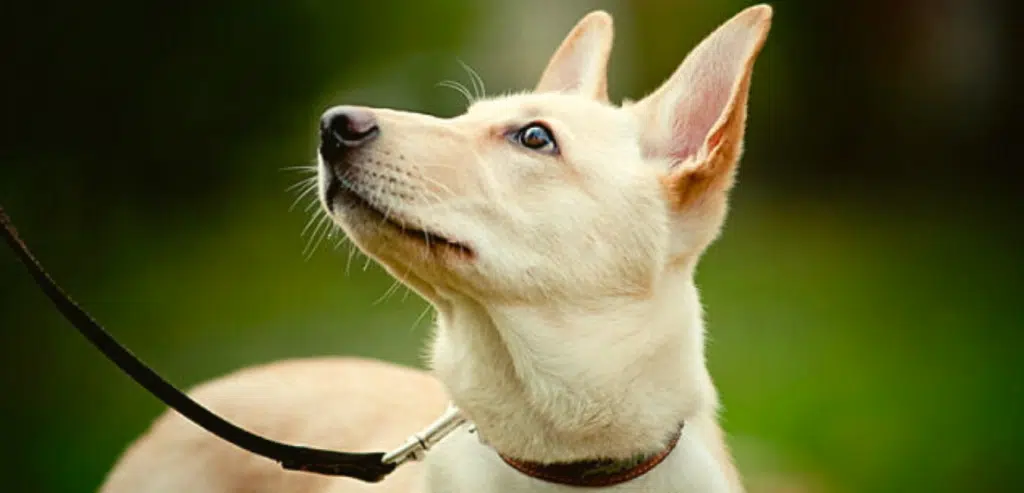 Always carry a leash for safety reasons. It's a good idea to get your dog with a routine as quickly as possible. As a result, a leash is another new dog necessity once you get him or her home. For enhanced protection, find personalized leashes with your dog's name and phone number. Puppies are infamous for escaping. The contact details will help your new buddy get home safely if your dog gets away from you while you're walking. Furthermore, when socializing with potential puppy mates at the dog park or doggie daycare, personalized leashes make identification a breeze.
4. Dog Crate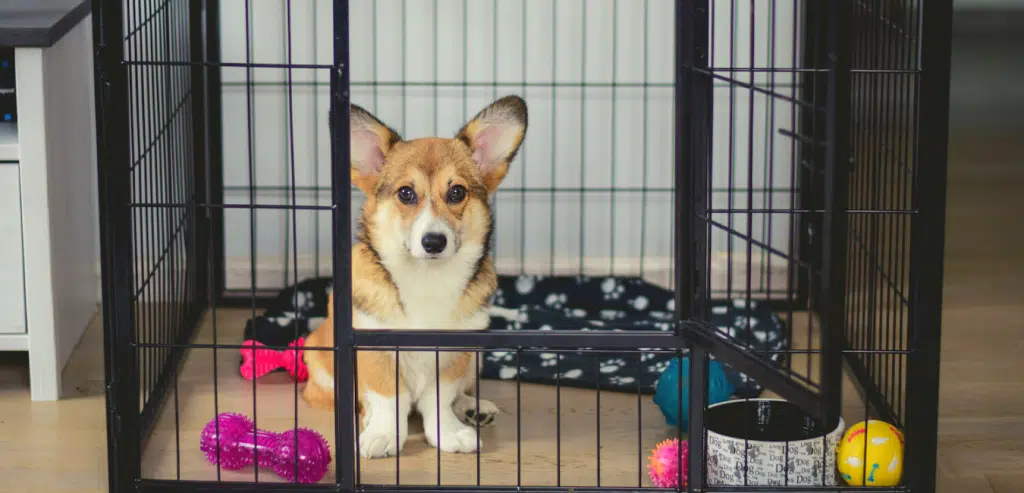 You'll need a sizable dog crate for your new pup. This would then become the dog's den. As long as they are properly welcomed to his or her special location. Crates are useful resources for house training and for building your dog's own safe space, which can help reduce anxiety. Look for crates that are long-lasting and of good quality. Your dog's height will determine the size of your cage. Your dog should be able to easily stand, turn around, and lay down. Any more than that, and you're setting yourself up for potty mishaps. Our recommendation is to get a cage that your puppy will grow into. Most crates come with a divider that you can change as they get larger, or you can make your own with a durable piece of cardboard. If all of these factors are important to you, the Midwest dog crate is a good option. It's made of tough stainless steel and comes with a divider panel so you can change the crate's size as your pup grows. It also has a tray lining to keep moisture from leaking into the floor.
5. Comfy Dog Bed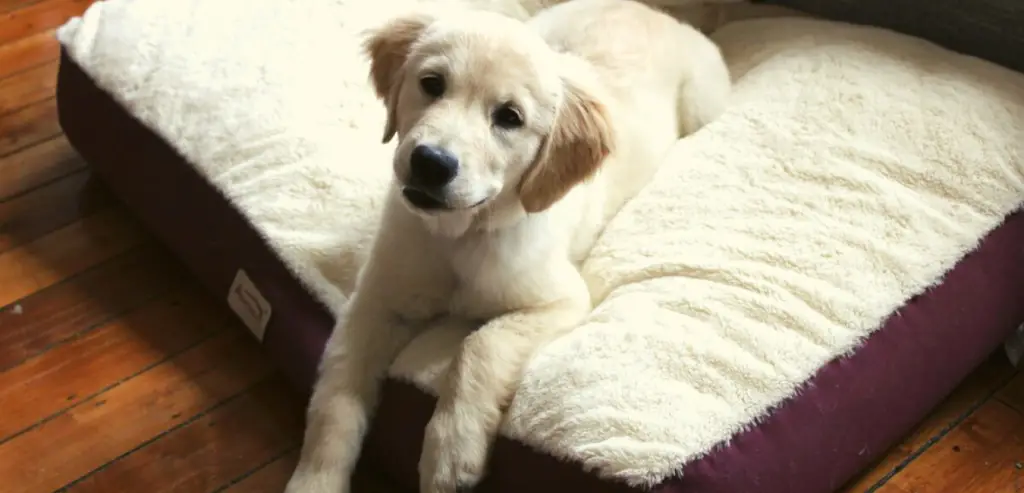 You'll want to invest in a comfortable dog bed. Your puppy would need a comfortable bed for the first night she is home. You'll make her sleep in her cage or kennel while you're house training her. Smaller beds and bumper beds with fleece or sheepskin covers are specifically made for this purpose. They keep the dog safe and comfortable while she sleeps. You can select from a selection of cushions, pillows, dog-sized sofas, and even memory foam beds until your puppy has moved from her crate to a real dog bed, all of which can be personalized to suit your home's decor. If you care for the climate, you will find beds that are filled with recycled items such as repurposed cotton or soda bottles. For odor and pest protection, cedar chips are often used in beds. Most beds have washable covers that can be removed. Choose a small to medium-sized bed that will make her feel safe and comfortable. Remove the dog's bedding from her crate or pull it away from her if she chews on it and ingests any of the foam or stuffing. This would avoid an intestinal blockage. Provide her with a blanket or towel to sleep on until she has gotten over chewing.
6. Puppy Play Pens
Play pens for puppies are essential for exercise. When you bring your puppy home for the first time, he will most likely be overjoyed and perhaps confused by his new surroundings. Your puppy should be allowed to go outdoors for walks and exercise once he has received all of his vaccinations. However, until that time comes, he'll have to get his exercise at home. Setting up a playpen for indoor exercise is the best option, particularly if your puppy is still being house trained. Your puppy will learn and play when comfortably confined, preventing accidents with both your puppy and your house. The Midwest foldable playpen is perfect for keeping little dogs contained. The playpen has a large 16-foot play area, ground pegs for securing the pen for outdoor use, and folds flat for easy storage. This pen can also be attached to a Midwest dog crate, which is ideal for when you aren't around to supervise play.
7. Baby Gate
For your puppy's protection, you might want to consider purchasing a baby gate. Puppies are curious bundles of mischief and play. Another important puppy item is a baby gate, which will keep your puppy safe and out of trouble. A baby gate can be used to keep the dog from wandering outside and being lost, as well as from jumping stairs and injuring himself. You may have parts in your house that aren't puppy-proofed or that you don't want your puppy to go into. To keep your puppy out of trouble, use puppy gates to close off these zones.
8. Food and Water Bowl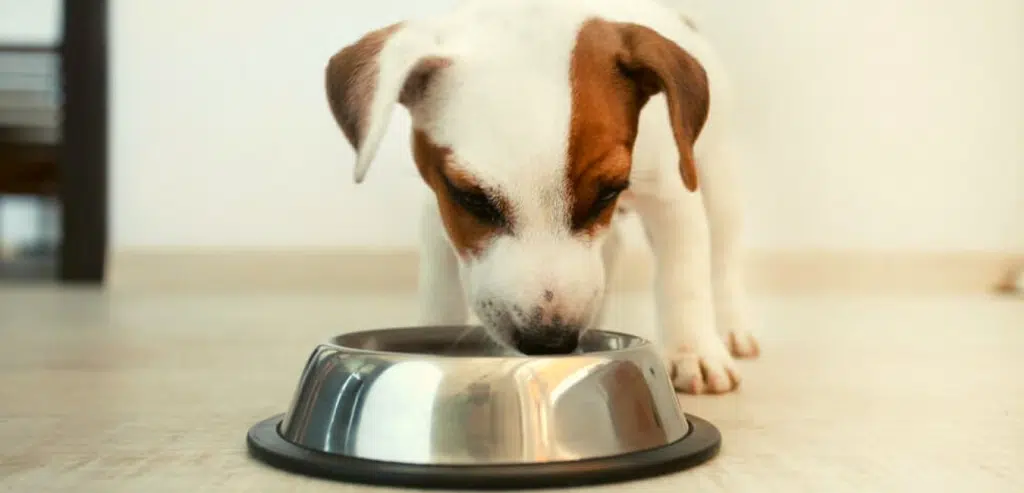 Make sure the food and water bowls are durable. When your puppy arrives home, he'll need food and water dishes, and your pet's specialty shop will have a wide selection. You could use ceramic or stainless-steel bowls, plastic crocks, or even glass dishes for your dog, but each of these options has advantages and disadvantages. Plastic bowls and crocks are the cheapest choices. Although most plastics can be cleaned and sanitized in the dishwasher, indented or scratched areas on the surface can harbor bacteria and residue. If you choose plastic, choose a more durable dishwasher-safe bowl and replace it as it begins to display signs of wear. Ceramic dishware and glass bowls are heavier, so they're unlikely to become toys, but they're also costly and breakable, and some ceramic parts contain lead, which is dangerous to your dog. If you buy ceramic, make sure it's lead-free and dishwasher safe. Stainless steel containers, such as the yeti bowl, are the best option, despite being the most expensive. They're tough, quick to clean and sanitize, and normally too big for a puppy to slam in his mouth. No matter how happily the dog eats or drinks, these bowls will not budge. Puncture resistance, corrosion resistance, and durable enough to withstand any dents and dings are all features of these bowls.
9. Food and Tasty Treats
You'll still need some delicious snacks and nutritious food on hand. It is important to feed your puppy correctly from the start in order for him to thrive and mature properly. As a result, another of our puppy basics is making sure you have the best food on hand for your pet. You would want to feed a mix of warm, frozen, and dry kibble food to your dog. Soft food is gentler on baby teeth and gums, while kibble aids in the removal of plaque and bacteria that may induce dental disease. Your veterinarian will still recommend the best diet for your dog based on his breed and fitness. Veterinarians also suggest Hill science diet puppy food. The brand is known around the world for producing high-quality animal foods that meet basic health needs. This dry puppy food contains extra calcium for large breed dogs' bone protection.
10. Potty Pads and Poop Bags
Potty pads and poop bags are essential. It's better to start house training the dog and teach them to potty outdoors right away. However, we recognize that certain dog owners can find it necessary to potty train their pets for the sake of convenience. If this is the case, don't skimp on the potty pads' quality. You're looking for one that can contain a lot of liquid and won't spill. Potty pods are convenient since they are compact and easy to disinfect. A package of poop bags and a dispenser that hooks to your dog's leash are also important. Make it a routine to inspect the dispenser before leaving the house. Having to wipe up feces with a leaf is not pleasant.
11. Grooming Supplies
You may want to consider getting your own grooming kit. Your puppy will need to be groomed, even though he is still young, and will need to learn how to act while doing so. His coat would need to be washed, combed, and brushed on a daily basis. His toenails will need to be clipped, his ears will need to be cleaned, and his teeth will need to be brushed. To be equipped for the grooming routine, get these grooming supplies ready and know how to use them as soon as he gets home.
12. Toys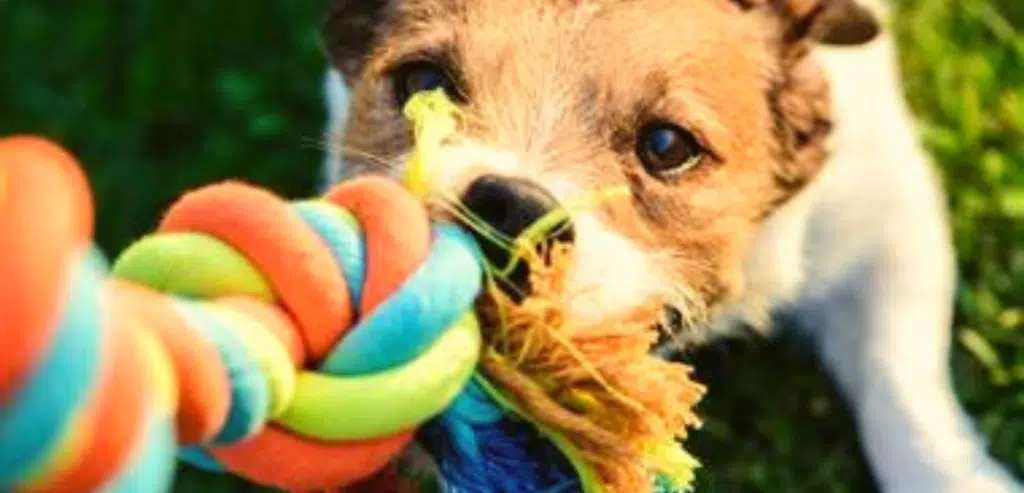 Toys are essential for your new puppy's development. Chew toys, interactive toys, bouncy toys, toys that conceal candy, and toys that vibrate are all examples. Give them something to chew on to save them from chewing on the furniture. Puppies and dogs in general like chewing on objects, so give them something to chew on. If you see your dog chewing on something, don't expect them to immediately replace it with one of their chew toys. Often, keep all of their toys in one place, such as a toy basket in the living room or by their crate. They'll always know where to find something entertaining this way.